guide
I promised I would re-visit some of my Picture Profile stuff. I thought I would start with this one as it is one of the least well understood settings. It's effects are quite subtle, but it can mean the difference between a noisy picture and a clean image, but also between a sharp image and a soft image, in particular in areas of subtle detail or low contrast detail such as foliage, grass and textures.
Crispening is a part of the detail correction circuit. It does not in itself, as it's name suggests (at least on an EX of F3) make the image "crisper". What it does is control the contrast range over which the detail circuit operates. Basically it sets the threshold at which detail correction is applied to the image, which in turn can make the image look a little sharper or less sharp. The apparent sharpness itself is controlled by the Detail Level and Frequency controls.
Why is this useful? Well it allows the user to choose whether to opt for a cleaner looking image or a sharper looking image. An important consideration is that this adjustment does not change the actual resolution of the image or the noise level of the camera, but it does make subtle details in the image more or less enhanced and as noise is also a subtle, even if unwanted detail within the image it will also make noise more or less enhanced, thus more or less visible.
In the first illustration I have drawn an imaginary video waveform signal coming from the camera that contains a mixture of noise and both subtle and more obvious picture information. The bigger the up/down change in the waveform the more obvious the change in brightness (and thus contrast) on the monitor or TV would be. Throughout the image there is some noise. I have indicated the noise level for the camera with a pair of red lines. The EX1 and EX3 is a moderately noisy camera, not the worst, nor the best for an HD camera, but pretty good in it's price range. So if we can do something to make the noise less obvious that would be desirable in many cases. Crispening can help us do that. Crispening ONLY has an effect when you are applying detail correction to the image. It sets the threshold at which detail correction is applied. The default setting on an EX is zero.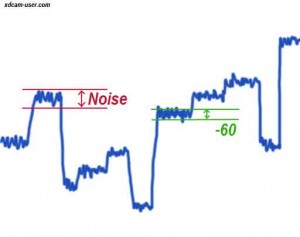 If we reduce the crispening setting, lets say to -60, it REDUCES the threshold at which detail is applied which generally makes the pictures look sharper. Looking at the second and third illustrations you can see how if you reduce the threshold too much then detail correction will be applied to even the most subtle changes in the image, including the image noise. The little black spikes I have added to the diagram illustrate the way the detail "enhancement" will be added to both noise and subtle contrast changes as well as larger contrast changes.
This will make the pictures look more noisy, but… and this is important… it will also help bring out subtle low contrast textures in foliage, skin, fabrics etc. A area where perhaps the EX1 and EX3 don't do terribly well.
If you want a clean image however where noise is less visible, then raising the crispening level to a high positive value, lets say +60 will increase the threshold at which detail correction is added, so signal changes will need to be bigger before detail correction is applied.
With a high positive number the image will look cleaner and less noisy, but you will loose some enhancement in textures and low contrast areas as these will no longer have detail correction applied to them. This can lead to a slightly muddy or textureless look to tress, grass, skin and fabric.
The real problem areas are the subtle textures and low contrast areas (circled in orange) where the true image detail is barely above the noise level. It's very difficult to bring these out without increasing the appearance of noise.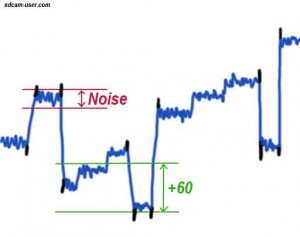 Unfortunately there is no clear answer to how to set the crispening level as it will depend on what you are shooting and how much noise you can tolerate. I tend to have crisping set between +10 and +30 for most things as I do tend to do a fair amount of grading work on my footage. When you grade noise is often the limiting factor as to how far you can push the image, so I like to keep noise under control as much as possible. For green screen and chroma key work I push crispening up to +40 to +60 as this helps me get a cleaner key, especially around subtle edges and hair.
If I am shooting exteriors and scenics with lots of foliage, grass etc then I will sometimes go down to -30 as this helps bring out the subtle textures in the leaves and plants, but this can make noise a little more pronounced, so it's a trade off. And that's what Crispening is all about, trading off subtle textures and detail against more visible noise. Ultimately only you can make the choice as to which is more important, but the Crispening level control gives you that choice.
The one big question of everyones lips is how do you archive your material? Well here are my thoughts and some ideas.
The most important thing is to think ahead and plan your end to end workflow. You also need to consider the fact that hard drives will almost certainly fail at some point (maybe not now but in the future) and the vast majority of problems are due to human error. Possibly simply forgetting to copy something or not fully understanding the workflow.
Some Golden Rules, no matter what format or workflow you are using are:
Copy EVERYTHING off the card, keeping the original file structure.
Ensure all copies incorporate some kind of error correction or error checking.
Don't skimp on the quality of your backup system.
Check, check and double check your workflow before you start shooting.
So you go on a shoot and start filling up you expensive memory cards, at some point you will have to start off loading your material onto something else. In the field this is likely to be hard drives of some sort. Backing up to a single hard drive should only be done as a last resort or for media that you don't mind loosing. You have several options here, you could use Shotput Pro to backup to single or multiple drives. I really like shotput as you can use it to eliminate a lot of user errors. For a start shotput can be set to backup to multiple locations simultaneously from the source media. Then once it has made the copies and verified the copies it can, if you wish, format the card, ready for re-use. Allowing Shotput to format the media helps prevent human error. How? Well if I ever put a card in my camera and find it has footage on it, it means that card has not been backed up and verified by Shotput. This is better than backing up yourself as there is always the risk of a mix up between backed up and not backed up cards. The other way to backup with a computer is to use the Sony XDCAM EX Clip Browser. You should never use the windows explorer or Mac finder to backup your valuable media as there is no form of error checking. Clip Browser has built in error checking which is enabled under the preferences tab.
A further option is to use a dedicated backup device such as the NextoDi products or soon to be released Sony PXU-MS240 backup device. These are easier to use than taking a laptop into the field. The NextoDi devices can backup to 2 drives at once (full review of the NVS2500 comming soon) and the Sony device backs up to removable esata drive cartridges.
So what sort of hard drives should you use? Well I am currently using pairs of USB Western Digital "Elements" hard drives. Where possible I use 3.5? drives as opposed to the smaller 2.5? laptop type drives. These are low cost yet so far have proven to be reliable and of good quality. The larger 3.3? drives should be more reliable, but they are bigger and bulkier and require mains power, so in the field I use the 2.5? drives. By storing these drives at separate locations, one at home and one in the office, I have a very safe system. If my office were to burn down or get flooded, I would have a spare copy at home. Over time however these drive will fail so every couple of years I move my footage on to new, larger hard drives. Another hard drive option is to use G-Tech G-Raid drives. These units contain two separate hard drives and can be used in raid 1 mode so should one of the drives fail your data should be safe. The cost is similar to using a pair of drives and it's certainly less fiddly than using pairs of drives but it doesn't give the security of separate storage locations. If you are doing corporate videos then you could consider selling drives to your clients. The client then keeps the drive and as a result you are no longer responsible for it's storage or safety, just like if the client kept your rushes tapes.
For longer term storage, again there are many options. I backup a lot of my material to BluRay discs. This is not a fast process, use high quality discs and you should be good for 20+ years. Another option is to backup to Sony Professional discs using a Sony PMW-U1 drive. This is a lot faster than most current BluRay burners and the discs are protected in a rugged caddy. Sony claim a life of 50 years for the discs so it is a very good long term storage solution. The new Sony PMW-350 and EX1R as well as the Convergent Design NanoFlash (next firmware release)  have shooting modes that allow footage to be saved on XDCAM discs (Sony Professional Discs) as video clips and not just data files. Using these modes you can put the discs in a player and play back the material directly.
A further long term storage solution is LTO tape. It seems strange to be going back to tape, but LTO4 tape is very reliable and widely supported. It's not suited to applications where you need quick access to your footage, but is very good for long term security. A good compromise may be one copy on a hard drive as a working copy along with a backup on LTO for archive.
Raid Arrays can be used for long term storage, but even Raid arrays can fail. If the lookup table becomes corrupted it can be next to impossible to recover the data off the discs, so do be careful. Do remember however you store your footage try and be organised. Store your material in a sensible folder structure that will help you find your rushes quickly and easily. If you are out shooting for a day you may be generating a hundred or more files, do that day in, day out and you will generate thousands and thousands of files. Make sure you work out you clip naming and clip prefixes in such a way that you won't get duplicate names and can find your footage quickly and simply.
And just one more reminder, always save the full file structure. In the case of XDCAM EX keep the full BPAV folder and all it's contents, also don't rename the BPAV folder. Even if you edit on a Mac and use the Sony Transfer Tool to make .mov files you should keep the BPAV folders as trying to edit the  .movs on a PC or AVID is a nightmare. If you have the original material you can easily work with it on any platform.